Amazon Best Selling Book "Dogs! A Through BreedZ" Available NOW - Laugh and Learn

By blending fun facts with humorous poetry and ridiculous cartoony artwork, "Dogs! A Through BreedZ" will actually trick you into learning a few things about our favorite canine companions and how each one stands out from the rest. It's the Perfect gift for the dog lover of any age, whether you're 6 or 106.
"The Afghan Hound is known everywhere,
for the curl in their tail and long silky hair.
Often they're show dogs, quite popular too,
except when they use up all the shampoo."
Click Here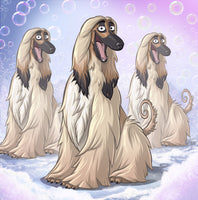 All prints are printed beautifully on enhanced matte paper and fulfilled by Printful within the USA. Your order will be sent out on average within 3 days of ordering. 
Estimated shipping delivery time:   USA: 3-5 business days